PRK BAND
Broken Hearts, Broken Mirrors, Broken Strings
Pete Krieshok and Randy Kmucha
Copyright 2004-2006
This album is solid Classic Rock. These ten songs are rich in soaring guitar riffs, great, memorable hooks, pensive lyrics and rich harmonies. Somewhere between soft and mellow love songs and screaming driving rock beats you will find a tune which hits a nerve.
These tunes are about us, and you. What image will you conjure up as you listen to these songs? Will it be love and hate, angels and devils, dragons and wizards, saints and sinners? These tunes range from simple and straightforward blues tunes to complex layered productions.
Broken Hearts, Broken Mirrors, Broken Strings
is entertaining and thought provoking.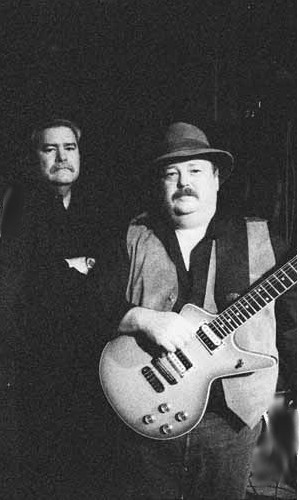 PETE KRIESHOK & RANDY KMUCHA
Check out this recent review about Broken Hearts, Broken Mirrors, Broken Strings
on CD Baby http://cdbaby.com/cd/prkband
A fun, memorable disc...
Reviewer: Jim Manning
Repeated listens are definitely rewarded with Broken Hearts, Broken Mirrors, Broken Strings. This is basically just a fine collection of guitar-based, memorable, accessible, classic rock tunes. There's not a clunker to be found on here, and given time, each of these tunes will manage to insinuate themselves into your conscience...I guarantee - based on personal experience - you'll find yourself humming these tunes to yourself after the first listen or two. Highly recommended.
Available at i-tunes >>click link below>>>
To contact PRK Band send email to prkband@yahoo.com